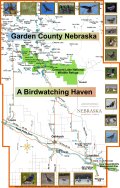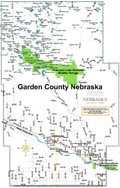 Garden County Nebraska
A Bird's Haven
and a
Bird-Watchers Paradise
Garden County is home to Crescent Lake National Wildlife Refuge, Ash Hollow State Park, the Garden County Refuge along the North Platte River, and the northwest section of both the Lake McConaughy Recreation Area and the Clear Creek Wildlife Management Area.
Made up of diverse terrain, the habitats host a large variety of birds. Grassland, wetland, woodland, brush, and prairie combine as home to year round bird species and a resting area for migrating birds. Located in the heart of the Central or Great Plains Flyway, over 200 species are known to migrate through the area.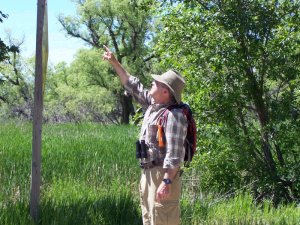 Don Bentley, of Bentley Birding Tours,
pointing out a bird to a group.
From the southern bluffs and canyons to the North Platte River Valley, northward through the rolling hills and fields to the Sandhills and lake dotted landscape, you'll be surprised and delighted at the variety of birds you can spot.
The North Platte River and the lakes and wetlands provide winter quarters for large flocks of waterfowl, and much needed water and nourishment to migrating flocks throughout the year.
All photos taken in Garden County 2008-2009